Corporate solutions
A simple puzzle with three parts. That is how Mosa prefers to view the total creation of commercial spaces. Everything has to be right, everything has to fit. Three elements are crucial in every case: identity, process, and budget. Whichever piece of the puzzle is most important for your business, Mosa fits – always.
Timeless, sustainable, unique
Mosa tiles are timeless, sustainable and have a feature that makes them unique: they can be transformed into appropriate tile concepts for every commercial space. Regardless of the style or use. Since Mosa was founded in 1883, that principle has been much appreciated by architects as well as interior, retail, and other designers.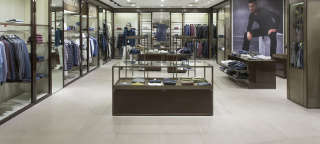 Commercial spaces are an essential element for every brand. Accommodation that conveys the right image says everything about the identity of a company: Who are we? What do we want to convey and to which target group? Mosa understands the principle of total brand experience.
Mosa delivers on a just-in-time basis. That goes without saying. We guarantee speed and flexibility throughout the process. And by that we mean from the very first design phase through to delivery, additional delivery, and after sales.
Scroll doel: "corporate_contact" (edit mode)
Every business has to work within specific budget constraints for the creation of commercial spaces. Mosa offers tailor-made solutions, even for extensive plans within a limited budget.
Corporate solutions contact
Would you like to know what Mosa can do for your organization? Please fill out the form below. We will contact you as soon as possible.
Request brochure
You want to receive the Mosa Corporate Solutions brochure through the post? You can use our form to request the brochure. We will then send you a copy as quickly as possible.