About Mosa
At Mosa, we are passionate about ceramics. For more than 135 years, Mosa has produced tiles by using the purest raw materials and the magic of Dutch innovative design. We embrace the Cradle to Cradle® philosophy and strive to support our clients to the best of our abilities to ensure that they can design buildings that are famous the world over and that can stand the test of time. Our tiles adorn walls, floors, façades, and terraces in private, commercial, and public buildings, inside and outside, in more than fifty countries over four continents.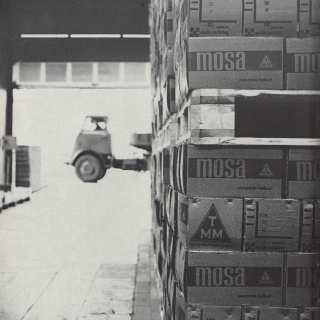 Dutch citizen of the world
Mosa epitomizes the very best of Dutch design. Years of experience and a rich heritage in manufacturing ceramics mean that here, timeless aesthetics meet functionality and master craftsmanship. While operating globally, local production and a regional supplier network remain at the company's heart. Today we still design, develop, and manufacture our tiles in Maastricht, where Mosa was first established in 1883. We collaborate closely with our clients from the earliest stages of the development process. This enables us to really connect with every single project, in order to best anticipate our client's needs
Smart design
The Dutch are well-known for their contemporary, functional, and innovative design. Mosa fosters a strong connection to these roots. Our tiles' sleek design, purity, and simplicity directly reflect their Dutch character. Our passion and heritage drive Mosa's continuous search for the best solutions to the international architecture world's challenges. This means our tiles aren't only aesthetically pleasing; for us, appearance is equally important to functionality, and sustainability. We always ensure our tiles exceed all functional requirements and last a lifetime; or as long as you need them.
Operating globally
Mosa tiles are produced locally, but found globally. Our far reaching client base, the diversity and cosmopolitan culture of our employees and our growing list of collaborators mean that Mosa is built to operate internationally. We represent Dutch design in over 50 countries and across four continents. Wherever you are, Mosa speaks your language.
"We use the Mosa website quite often because they have lots of inspirational pictures on there which are just very useful tools for being able to explain to clients how this material might feel in space."
Alex Wraight (Allies and Morrison, United Kingdom)

"Everything you as an architect don't want to think about, you want somebody else to just have it and that fits perfectly with Mosa."
Christina Köpf (Designliga, Germany)

"When you look at the range of Mosa, all the possibilities are there."
Stéphane Parmentier (Agence Stéphane Parmentier, France)

"In my experience Mosa is one of the very few companies that manages actually to really meet its own standards."
Nanne de Rue (Powerhouse Company, the Netherlands)

Pioneering innovation
Mosa is driven by innovation and this is reflected onto every single tile. We research, develop, and constantly improve our product, offering our clients creative freedom and ensuring they get only the very best for their designs. We constantly push the boundaries of our field, both aesthetically and technically. Mosa aims to not only manufacture state-of-the-art, sustainable ceramics, which are Cradle to Cradle certified, but also to challenge perceptions about the role of tiles in the building process. In fact, we consider this building process and the installation of our tiles, as an intrinsic part of the design. Therefore, we ensure our products are always accompanied by tailor-made services that facilitate their application.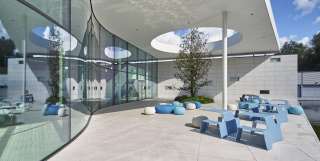 Committed to the best support
Our services reflect the high standards of our clients. Their benefit sits at the core of our business. Both in person and online, we provide bespoke support, profound information and the right tools to help our clients translate ceramic surfaces into architecture. During the entire building process, Mosa supports you with data and services that will help you design using our collection. We endeavour to embrace your preferred way of working, so that our service becomes a seamless part of your project.
A sustainable future
Our tiles have been designed to stand the test of time. At Mosa, we focus firmly on the future as the environment, sustainability, and well-being of future generations are important to us. We operate according to the Cradle to Cradle philosophy. This circular approach allows us to contribute positively to our society, our economy, and our planet. Nearly all of our tile collection is Cradle to Cradle certified. Consequently, Mosa plays an important role in obtaining quality marks for sustainable construction.
One team
Mosa values its people just as much as its product. There are over six hundred employees at Mosa, each a specialist in their field, ready to work together, to innovate and improve, and to achieve the best possible result for you. Our company was built on trust, and this is reflected in our passion and seamless collaboration with you.