Matt Collection
Matt tiles in earthy, ceramic shades of black, white, and neutral grey. These complementary colours are perfect for designing monochrome interiors.
Stay informed
Matt finish for walls
The Matt Collection series consists of twelve wall tiles. The tiles are available in four cool grey colours, four warm grey colours, and four warm bright colours, graduating from light to dark. The colours can be fully tailored to the colour of the floor tiles from the Global Collection / Globalgrip series.

For those who like to play with contrasts by combining powder matt with gloss can combine the Matt Collection with floortiles from the Global Collection / Globalgrip series. These floortiles are suitable for indoor and outdoor use on walls, floors, facades, and terraces. The modular character of our tiles lends itself perfectly to creative combinations and our designers would be happy to advise you.


In Nederland zijn de Classics Tide kleuren onderdeel van de Motto by Mosa-collectie. Graag helpen we u verder op de website van Motto by Mosa
Ga naar Motto by Mosa
U wilt als professional een Classics Tide-kleurstaal aanvragen?
Vraag kleurstaal aan
Floor tile

Wall tile

in the colour:
()
You have selected:
Size:
Type:
Item:
Mosa series:
This colour is available in sizes and types.
Sizes Matt Collection
The wall tiles in the Matt Collection series are available in the sizes 10 x 30, 15 x 15, and 15 x 30 centimeter. Click on the size to see the available colours.
Floor tile

Wall tile

in the size:

You have selected:
Colour:
Type:
Item:
Mosa series:
This size is available in different colours and types. Refine your search.
Matt Collection tile patterns
Our tiles are modular. This makes it easy to create a number of different patterns. These tile patterns create an interplay of lines on floors and walls. This can create a subdued or bold look, or a linear or edgy aesthetic. Use our examples or create the desired effect by designing your own pattern with the use of our Pattern Generator.
Powder matt
The glazed wall tiles in the Matt Collection series are more matt and more tactile than other glazed wall tiles. This gives the tiles the same powder matt appearance as unglazed floor tiles, while meeting the same high Mosa standards for wall tiles thanks to an innovative glazing process. Pair with unglazed floor tiles to create walls and floors that form a unified whole. For a fully monochrome look, we recommend using joints in the same colour as the tile.
Inspiration
Service and tools
Unique patterns
The different hues and sizes make Mosa tiles perfect for creating interesting tile patterns, whether your design is complex or simple, geometric and rhythmic, or demure or bold. The interplay of lines between tile and joint creates interesting surfaces. Mosa provides you with the tools to do this entirely as you wish. Designing tile patterns is easy with the Pattern Generator.
Go to Mosa Pattern Generator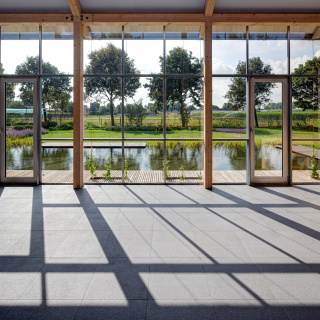 Cradle to Cradle Certified® Gold
Sustainability is one of the main pillars of Mosa. Matt Collection is no exception. The tiles are made of the purest materials in a sustainable design and production process, and Cradle to Cradle Certified® Gold certified. We are committed to fostering respectful relationships around people and nature in all our manufacturing methods and services. The natural feel and pure ceramic character of Matt Collection reflects this.