Murals Blend
A combination of tones, gloss levels, and sizes in a single ceramic wall. Harmonious spaces can be created through the careful selection of tiles.
Blending color tones
Murals Blend consists of ten interconnected color groups. These groups differ in expressivity, but share the same soft, stone matt glazing. Each color group consists of four colour tones.
bright white (0.28 inch)


light cool grey (0.28 inch)


mid warm grey (0.28 inch)


dark anthracite (0.28 inch)


bright white (0.32 inch)


light cool grey (0.32 inch)


mid warm grey (0.32 inch)


dark anthracite (0.32 inch)


In Nederland zijn de Classics Tide kleuren onderdeel van de Motto by Mosa-collectie. Graag helpen we u verder op de website van Motto by Mosa
Ga naar Motto by Mosa
U wilt als professional een Classics Tide-kleurstaal aanvragen?
Vraag kleurstaal aan
Floor tile

Wall tile

in the color:
()
You have selected:
Size:
Type:
Item:
Mosa series:
This color is available in sizes and types.
Sizes Murals Blend
The tiles in the Murals Blend series are available in the following sizes: 6 x 6, 6 x 12 and 12 x 12 inch with a thickness of 0.28 inch and 12 x 24 inch with a thickness of 0.39 inch. Click on the size to see the available colors.
Floor tile

Wall tile

in the size:

You have selected:
Color:
Type:
Item:
Mosa series:
This size is available in different colors and finishes. Refine your search.
Murals Blend tile patterns
Our tiles are modular. This makes it easy to create a number of different patterns. These tile patterns create an interplay of lines on floors and walls. This can create a subdued or bold look, or a linear or edgy aesthetic. Use our examples or create the desired effect by designing your own pattern with the use of our Pattern Generator.
Harmonious and lively
The tiles in the Murals Blend series were designed to be mixed and matched to create a harmonious and vibrant surface. This could range from subtle to more expressive surfaces, depending on the combination of grids and colors. The subtle colors, sizes, and gloss gradations were combined into complementary color groups.
Mosa Murals
Seamless interiors, where architecture and ceramics come together in perfect synergy; this is the essence of Murals. This dynamic wall tiles collection comprises layers of carefully composed colors, formats, finishes, and textures, designed to coexist in harmony. At once subtle and extra-ordinary, the transformative power of Murals lies in its ability to secure pure design freedom and material authenticity, while perfectly complementing a project's architecture.
Unique patterns
Murals Blend finds its perfect partner in the Pattern Generator. This is a tile collection that celebrates the power of playfulness, choice, and adaptability, offering numerous options for highly-inspirational tile surfaces to fit any style. Created as a tool that allows for creative freedom and that helps designers bring their ideas to life, the Pattern Generator is the ideal companion in exploring the world of ceramics through Murals.
Go to Mosa Pattern Generator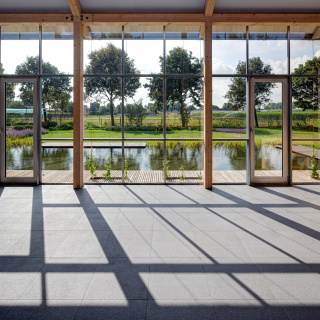 Cradle to Cradle Certified® Gold
Sustainability is one of the main pillars of Mosa. Murals Blend is no exception. The tiles are made of the purest materials in a sustainable design and production process, and Cradle to Cradle Certified® Gold certified. We are committed to fostering respectful relationships around people and nature in all our manufacturing methods and services. The natural feel and pure ceramic character of Murals Blend reflects this.
Murals
The four series of tiles that make up Murals - Blend, Fuse, Change and Lines - draw on the same principles, but each one is clearly distinct. Together, they create a versatile and invaluable toolbox, readily available at the designer's whim.