µ
Different hues within a single surface. As light changes, so does the look of the floor. This leads to color effects that are intangible and full of surprises.
Request your µ brochure
Refreshingly pared down
Each surface in the μ [mu] series is a combination of many different colors; an optical blend of millions of brightly tinted grains. This blend is made by mixing ceramic pigment with clay. Because of the natural falling of granulate, a vivid shading effect is ensured for each 24 by 24 inch tile.
The tiles of this refreshingly pared down series come in four key overall neutral shades - white, light grey, grey and brown. A bespoke arrangement of different bright hues, transformed by the way they are lit, helps build μ's identity. Distinctive, fluid, and ethereal, yet energetic.
This color is available in sizes and types.
Sizes µ
µ Tiles are available in the size 24 x 24 inch. Click on the size to see the available colors.
This size is available in different colors and finishes. Refine your search.
Trims µ
µ Offers a matching skirting board trims.
This trim is available indifferent colors and sizes. Refine your search.
µ tile patterns
Our tiles are modular. This makes it easy to create a number of different patterns. These tile patterns create an interplay of lines on floors and walls. This can create a subdued or bold look, or a linear or edgy aesthetic. Use our examples or create the desired effect by designing your own pattern with the use of our Pattern Generator.
A contemporary interpretation
Following up on extensive research on nature, ancient Greek philosophy on color and current design trends, Mosa created its own interpretation of what color is. The result? Contemporary ceramic surfaces with a versatile and playfully ever-changing appearance.
Scroll doel: "mu-effect" (edit mode)
Adding the fourth dimension: the µ effect
Mosa's specialists studied ceramic pigments and the way they interact with each other, as well as their relationship with elements such as light, distance and angle, and colored objects. As light changes in a room, so does the look of a μ floor, creating color effects that are intangible and full of surprises. μ is making the most of the three-dimensional space that surrounds it, as it's adding the fourth dimension – time – to the mix.
Each piece in the μ [mu] series is entirely unique. The tiles' appearance is influenced by the context, thanks to the blend of pigments that interacts with its surroundings. Experience yourself how daylight, distance, and colors influence the tiles' appearance.
choose tile
white
light grey
grey
brown
choose tile
white
light grey
grey
brown
choose tile
white
light grey
grey
brown
The effect of daylight
Light is crucial in the perception of μ. Its approach of combining different colors ensures that the tiles absorb certain light waves and reflect others, playing with them and creating various hues. As light changes, the μ surface changes too.
The effect of distance and angle
The product's hues are further affected by distance and angle. The angle of viewing is essential in the overall effect created by μ's delicate pigmentation. Even subtle changes in viewpoint can have an effect on the surface' appearance.
The effect of colored objects
Nearby colored objects and materials also play a key role in the appearance of a μ surface. The color shade of the tiles 'adjusts' according to a colored neighboring wall pattern or piece of furniture. This allows unprecedented freedom of expression.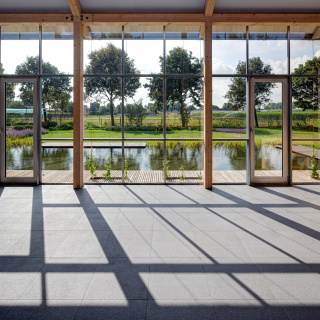 Cradle to Cradle Certified® Gold
Sustainability is one of the main pillars of Mosa. µ is no exception. The tiles are made of the purest materials in a sustainable design and production process, and Cradle to Cradle Certified® Gold certified. We are committed to fostering respectful relationships around people and nature in all our manufacturing methods and services. The natural feel and pure ceramic character of µ reflects this.
The creation of μ
As a floor tile series designed to interact with space and time, μ [mu] cleverly responds to a setting's changing light. The surface subtly shifts shades during the course of the day. The series is inspired by the extraordinary relationship between illumination and the color spectrum.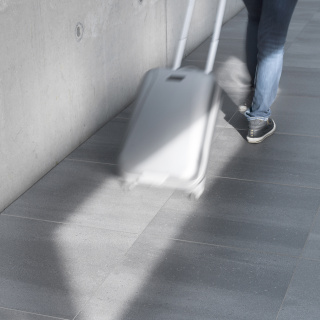 Ultragres: an outstanding choice for heavily used floors
Ultragres floor tiles are very strong, retain their great appearance for a long time, and retain their properties under all conditions - in every situation, both indoors and outdoors, where the floor is subjected to heavy use. In other words, Ultragres is the best choice for the most demanding floors.
High-quality products
Mosa tiles have proven themselves as high-quality products. In Europe, they have amply fulfilled the conditions of the EN 14411 standard, and they also satisfy the CE marking requirement of the European Construction Products Regulation (CPR). In the USA, the tiles satisfy the high ANSI standards and the floor tiles were tested with positive results in line with ASTM standards.